We started the year off attending the virtual "Vision Together" Conference January 1-3 with about 1300 international students, volunteers and staff from 82 countries of the world.  IFI had about 60 students, volunteers and IFI staff from Columbus participating.  This conference was organized by CRU Bridges Ministry to International students.  Our partnership grew stronger this year--they asked one of our student leaders, 'M' from India, and one of our IFI staff, George Chow, now Area Mobilizer for Houston, TX, to be 2 of the 4 emcees for the conference.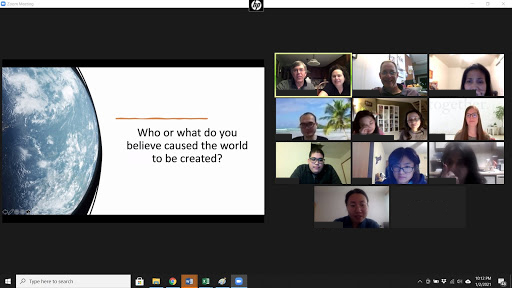 We had some great discussions about dealing with anxiety, stress, and matters of science and faith.  The group was made up of students from China, India, Indonesia and several volunteers who work with Muslim students.  The photo above shows one of the IFI virtual family groups meeting to discuss Genesis 1.  The people in our group were really invested, including one woman who dialed in from China, so she was 13 hours ahead of the rest of us!  Attendees were vulnerable and authentic, sharing pressures for studying and family issues, as well as how Jesus gives them hope and encouragement. 
One international (who is an intellectual, genetics genius) in our group shared an interesting insight about the order of creation-- specifically where Genesis says man was formed first, then woman was formed from a part/rib of man.  Science does not necessarily confirm or prove the Biblical account, but from a genetics perspective, it can corroborate that the first woman's genetic code (XX) could have come from the man's (XY) DNA, but it wouldn't have worked the other way around, with a man coming from part of a woman, without something extra, the Y chromosome, being added.  The biblical writers didn't have access to all the genetic stuff we know now, but science supports what we read in the Bible, that woman could have come from man. 
We also had the chance in a breakout room to talk with International students about the opportunity to consider joining IFI and our iSEED Discipleship program.  One woman from China had heard about the program from a former intern and came eager to learn more.  She will graduate in 18 months and is looking forward to joining the program.  She says:
"I can't believe that there is a program like this that exists and has everything I am looking for: work experience, spiritual development and mentoring!"
–Future IFI Intern (iSEED) participant