Annual Staff & Volunteers Training Day (2017)

Theme: "Impacting the Nations Together - One Student at a Time"
"My prayer is not for them alone. I pray also for those who will believe in me through their message." (John 17:20)
Thank you to the speakers and for all who were able to attend the Training Day! The videos from the sanctuary sessions have been posted below along with the audio from the workshops. Some sessions have not been made available to the public due to security reasons.
To download the slides and handouts from each session, please access them from the Volunteer Training Platform.

---
January 14th, 2017
Upper Arlington Lutheran Church - Mill Run Campus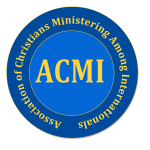 IFI Training Day is a recognized ACMI regional event.
Questions? Please contact Tish at: