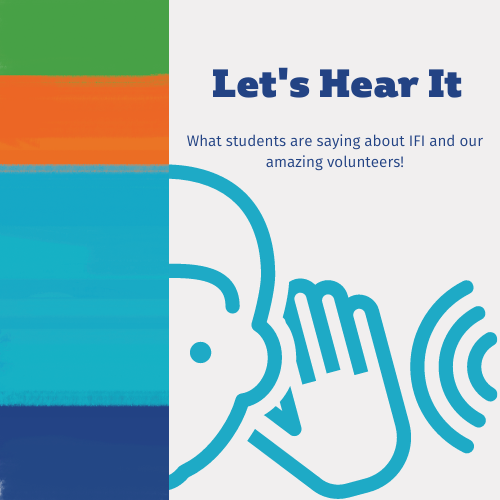 Check out some beautiful comments from students about our most recent events!
"I had a wonderful time playing ping pong and Mario kart and talked about myself and my host's story...

All his family members show up to celebrate this special moment. I am very happy to be one of them without interruption too much. It is my first time in the US and probably it is the best time ever...

It's definitely meaningful. [My host] talked that when his father came to the US [for the] first time, he was hopeless during the holidays, so he decided to help the international students. It was impressive for him to contribute back to society. I hope one day I can do the same thing."

"It was an enjoyable day!! I was so happy to spend Christmas Day with [my host] family. They are very, very kind and nice to us. We ate delicious food, told stories, and sang songs. [They] also prepared a gift for me. It was absolutely a wonderful time! I would definitely participate in this kind of event again. I can't think of anything that needs improvement because it was so perfect!" 

"It went really well! It was a great experience. I would definitely participate again.

First of all, it saved me from a lonely Christmas day when most of my friends have returned home or out on a trip. However, that is only the tip of the iceberg. I had a great experience. [My hosts] had travelled to different countries and they were sharing their experiences. They got us as their spellbound audience on Christmas afternoon. I learned a lot of things about different cultures and different works about which I had no idea before!"

"I had a good time with my  host. It was my first time experiencing Christmas here, so it was an unforgettable memory for me and I'd love to participate in the activity again, if I am available. During the activity, I felt very good. The family is kind and warm. We had a good chat and shared our lives. I believe this activity will be helpful for international students to learn about Christmas and local culture."
"Thank you so much for organizing this event. It went great. It was an amazing experience. This was also my first Thanksgiving dinner... I'll definitely participate in this event again in the future. Mr. Rogers enlightened us by sharing the history attached to it and we learnt a lot about Ohio and its culture, life in countryside, hike trails and many other things from him. This was one of the most memorable nights in Columbus till now."
"Mick was a great host and he has a great family. His daughter is one of the most polite 8 year old I have ever seen. The food was 10/10. We also had a great conversation."
"My friend and I had a wonderful time with Rebecca's family. She gently and nicely facilitated the conversation, and her family was very friendly and kind. The meal was wonderful, and her children even played piano and cello for us! Absolutely, I would participate in this event again."
"We had a very good time at Bruce's place. He was very welcoming and shared a lot of stories. We all had a fun time and enjoyed the food a lot as it was new to us."
How has has IFI made you feel at home at OSU?
"It's been 4 months now I have come to OSU. Not a single day, I have ever felt lonely or missing my family back home. The IFI has given me a platform to get connected to people of different parts of the world. The good part is, IFI let us feel a sense of brotherhood irrespective of religion and community.. And the volunteers are just awesome, they are doing every possible thing for strengthening this trend of brotherhood and spreading the love."
"By hosting well organized events that help me interact with other Indian students."
"We had a positive experience. The food and activities were really good. The host was kind as well. Thank you so much."


"I think everything was perfect, so I cannot tell you how to improve this event. I appreciate IFI to provide this kind of nice event to international students."

"

Thank you very much for your email. It went very well! I had a great time hanging out with Mark's family and friends! Absolutely yes, I will be more than happy to participate in this event again. Very good!"
"The host was very kind to us and very informative. I was comfortable to be with him because he was so nice. My group members also were so friendly, we always have things to talk about. I love my group, even though I did not talk much in my group."
"Our host driver was extremely nice and friendly he literally made our trip amazing. Overall, I didn't find anything not enjoyable, the group I was with were very friendly and nice which made the trip outstanding"
"The caves and giant rock structures were phenomenal and overwhelming. I had wonderful pictures with them. I'd definitely like to go again with IFI on such excursion tours."
"This is going to be a memorable day for me. It is nearly impossible to fit the stories of this entire 9 hours in this form. All I can say is: Thank you IFI, thank you our friends/guides/host/driver/support/fellow travelers. Thank you for such an amazing experience!"
Students are also talking about their experiences with hosts, buddies, and conversation partners!
"Thank you so much for your cooperation. I was new to this environment, literally having no support to cope the situation. I want to thank Chris for providing such kind hospitality for two nights. I feel like a home kind of feeling. You're a great man. Literally, I'm thankful to you by heart and will remember this kind gesture forever. Lastly, again thank you for the such a delicious dinner last night.
I'm highly obliged to both of you people and this organization."

"My flight was delayed 4 times but she was very cooperative and understanding. I could not have asked for someone better, she was amazing. ​Kathy was really knowledgeable and warm person who greeted and treated me with great love and care. She knew the routes well and even educated me with Columbus routes and driving ways. To me, they were the perfect hosts. I appreciate all the help they did for me to get me acclimated to this new country and place. I was a little nervous initially when I signed up for the program but I never knew that it was a blessing in disguise. Kathy and Gary were such warm and empathetic hosts that I never felt homesick or uncomfortable at all in their place. They were really really helpful in arranging all the essentials for my apartment and stay, got me acclimated to how things work in the united states, and helped in shifting to the new place as well. I've never met a family and people so giving that it backs up my faith in humanity truly. Kathy is unbelievably a nice being who believes in helping others and has become my go-to person here for any problem and advice I need. I am so thankful to IFI for this great experience!!"

"Nancy and Dan were very open-minded with differences in our cultures and willing to discuss almost anything openly. They also let us ask anything we were curious about the U.S. and American culture in general. As much as they wanted to help us in almost anything, they still gave us opportunities to handle things on our own, such as trying to walk to a bank nearby to open our bank accounts--which turned out to have no banker at the time, so Nancy had to drive us to another bank much farther, and trying to make a purchase for our cell phone and computer at Best Buy. It meant a lot for us as we knew that there was someone we could trust and ask for help, as well as make a trial and error on our own in the first few days in a foreign country where one of my friends and I haven't been to before!"

"It was a pleasant stay and I really appreciate the help provided by IFI and its volunteers. Mr and Mrs. Galdwell have been great hosts; Craig picked me up at the airport late at night (near 1 am) and drove me to several places where I should visit (BMV, Target, School, etc.) during my stay. Mary Beth was also very kind, and cooked me delicious meals. I felt really comfortable at their home and I felt lucky to begin my journey at the house of these generous hosts. I would answer "very very good" to all of the questions that ask for my rating. Again, I am very thankful for the service that IFI, especially my great host family, has provided. Once again, I'd like to thank you and IFI for helping us settle in the U.S. and understand American culture better. I do hope that there will be more international students who will have the same opportunity to feel welcome in an American family and foster a peaceful cross-cultural understanding."