We know and trust in the power of prayer.
That's why we're inviting you to help us from the secret place!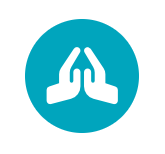 Prayer Highlight
Please consider signing up to join the International Students Day of Prayer on Nov. 17th. Sign up for a 15-minute time slot or to join the online prayer meeting  (6-7pm) as we focus our prayers on the safety, needs, and spiritual growth of the international students we are called to serve!
Monthly Snapshot!
Pray for seekers and believing students to attend the Vision Conference (December 28 - January 1) and  God will use it to accomplish His purposes
Pray for students to feel at home during Christmas meal hosting, and for conversation to be centered on the Good News.
Pray that many students will attend the Christmas for Internationals program and learn the true historical background of Jesus.
Praises: 

The Hocking Hills Hike and Pumpkin Carving Hosting were rousing successes! We are so thankful for every opportunity to engage with students and introduce them to new experiences.

We've been able to engage with students from at least 75 different countries this academic year so far. We're looking forward to so many more!

Prayers

That the relationships we're building with students extend deeper friendship and that God reveals the opportunities for productive spiritual conversations with them.

For God to raise up international students who will become mature disciples and disciple makers among their people

For more connections to be made with Chinese students

That more students would join Bible Discussion Groups
Join the International Students Day of Prayer on Nov. 17th. Sign up for a 15-minute time slot or to join the online prayer meeting from 6-7pm.

Be a lifeline for international students. Sign up to help with the Prayer Hotline.

Pray that relationships that have started would grow deeper and there would be opportunities to share Jesus.

Pray that God would continue to protect IFI staff, volunteers and students from COVID.

Praise God!  One of the Bible Discussion Groups has over 35 students attending weekly.   

Pray that God would double the number of students who attend Bible discussions.

Pray that the Chinese students at OSU would not be concerned or restrained from participating in IFI because of fear from the communist government.

Pray for drivers for the Hocking Hills trip.
International Student Prayer Hotline
Are you interested in praying directly for and with students?
IFI has launched an International Student Prayer Hotline and we are looking for volunteers to help!  Set aside a day and time to interact with students and address their needs in prayer. A handbook with resources will also be provided.
Click here For more information and to sign up!